WORLDWIDE SHIPPING – Free Shipping for Spain, Balearic Islands, Canary Islands & Portugal >34€ / Europe >99€ / Delivery in 24/48h M-F
Romario Umaña – Costa Rica – Natural
16,00€ – 58,00€ VAT included
| | |
| --- | --- |
| |  Brewing method: Filter & Espresso |
| |  Cupping notes: Plum, banana, white chocolate |
| |  Process: Natural |
| |  Varietal 100% Arabica: Red Catuai |
| |  SCA Score: 88 |
| |  Producer/s: Romario Umaña |
| |  Region: Tarrazú |
| |  Altitude: 1900m. |
| |  Harvest: 2023 |
The Finca El Centro is located in a micro-region of Tarrazú called Canet, at the top of La Cruz mountain, where the combination of climate and soil is ideal for the cultivation of specialty Costa Rican Coffee.
Romario Umaña is the second generation on the farm, where his father planted the two hectares that make up the estate with Catuai Red in the mid-nineties.
The entire family is responsible for keeping the coffee trees healthy and well-fertilized while implementing environmentally friendly practices.
This natural process lot is dried on raised beds for 22 days, during which it is constantly moved and monitored.
This is the third consecutive year that we have been working with Romario, and we couldn't be happier with the results and the feedback we receive.
Additional information
| | |
| --- | --- |
| Weight | N/A |
| Whole bean-Ground: | Whole bean, Ground for French Press, Ground for AeroPress, Ground for V60, Ground for Chemex, Ground for Moka Pot, Ground for Espresso |
| Pack size: | 250 gr., 1 kg. |
| Brand: | Ineffable Coffee |
| Preparation: | Filter Chemex, Filter V60, French Press, Espresso, Superautomatic, Italian Moka, AeroPress, Filter coffee machine, Cold Brew |
| Flavour profile: | Fruity, complex, medium acidity |
| Process: | Natural |
Spain & Portugal
Free shipping for orders over 34€ to mainland Spain, Balearic Islands, Canary Islands, Ceuta, Melilla, and Portugal.
For orders below 34€, shipping cost is 4€.
You will receive tracking via email for all shipments.
Delivery times are fulfilled in 99% of shipments. Please note that we are subject to the proper functioning of our external logistics partners.
National and/or regional public holidays may affect estimated delivery times.
Delivery to mainland Spain in 24/48 hours, M-F.
Delivery to Balearic Islands in 3/7 days, M-F.
Delivery to Portugal in 3/7 days, M-F.
Delivery to Canary Islands is shipped with Correos in 3/7 days, M-F, without tracking email.
Delivery to Ceuta and Melilla is shipped with Correos in 3/7 days, M-F, without tracking email.
Europe
Free shipping for orders over 99€.
Countries included: Austria, Belgium, Bulgaria, Croatia, Czech Republic, Denmark, Estonia, France, Finland, Germany, Greece, Hungary, Ireland, Italy, Latvia, Lithuania, Luxembourg, Monaco, Netherlands, Poland, Romania, Slovakia, Slovenia, Sweden and United Kingdom.
For orders below 99€, the shipping costs will be automatically calculated when you enter your shipping address in the shopping cart.
Delivery in 4/7 days, M-F.
You will receive tracking via email for all shipments.
Please note that public holidays may affect estimated delivery times.
World
Shipping costs will be automatically calculated when you enter your shipping address in the shopping cart.
You will receive tracking via email for all shipments.
Please note that customs duties and/or taxes in destination countries are not included in the shipping costs. They are external and unrelated to Ineffable Coffee, and they vary according to each country's policies.
Countries included: Andorra, Argentina, Australia, Bahrain, Belarus, Bolivia, Bosnia and Herzegovina, Brazil, Canada, Chile, China, Colombia, Costa Rica, Cyprus, Dominican Republic, Ecuador, Egypt, El Salvador, Guatemala, Honduras, Iceland, India, Indonesia, Israel, Jamaica, Japan, Jordan, Kuwait, Lebanon, Liechtenstein, North Macedonia, Malaysia, Malta, Mauritius, Mexico, Moldova, Montenegro, Morocco, New Zealand, Nicaragua, Norway, Oman, Panama, Paraguay, Peru, Qatar, Russia, San Marino, Saudi Arabia, Serbia, Singapore, South Africa, South Korea, Switzerland, Turkey, Ukraine, United Arab Emirates, United States and Uruguay.
From Tradition to Innovation in Costa Rican Coffee Farming
Romario Umaña is a young Costa Rican coffee farmer who has revolutionized the way specialty coffee is grown in Costa Rica. In 2019, he founded his own washing station, Umacor, to process coffee from his farm in the town of San Marco de Tarrazu.
From Commercial to Specialty Costa Rican Coffee
Romario grew up surrounded by coffee. His grandfather and father were coffee farmers, and he himself began working on the family farm at a very young age.
However, the coffee they produced was sold to local cooperatives or multinational washing stations, where it was mixed with other conventional Costa Rican coffees.
In 2019, Romario decided he wanted to produce his own specialty coffee. To do this, he needed full control over the process, from cultivation to processing, which is why he founded his own washing station: Umacor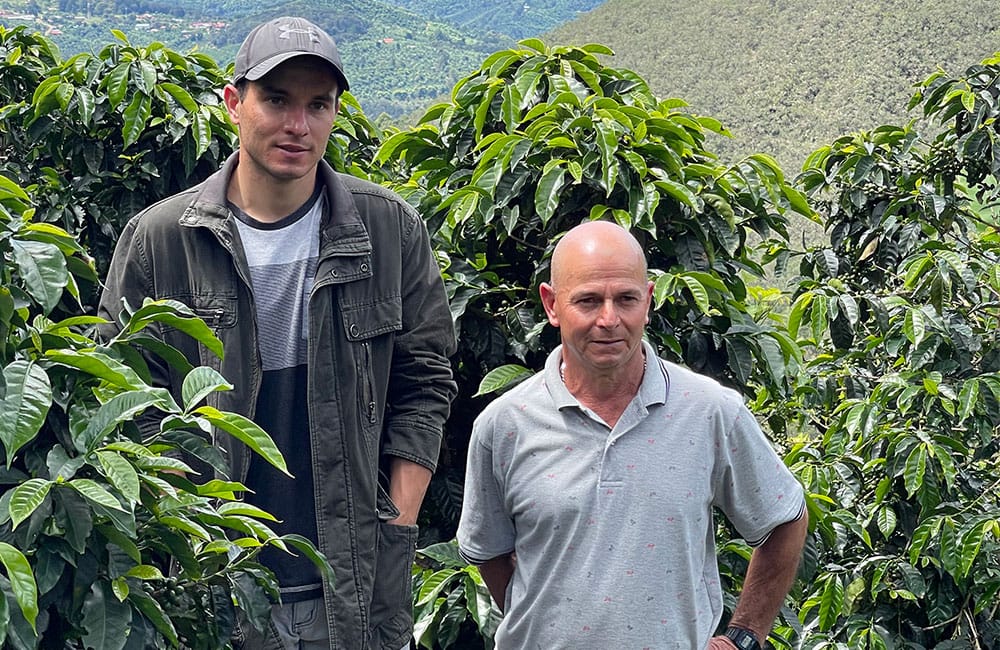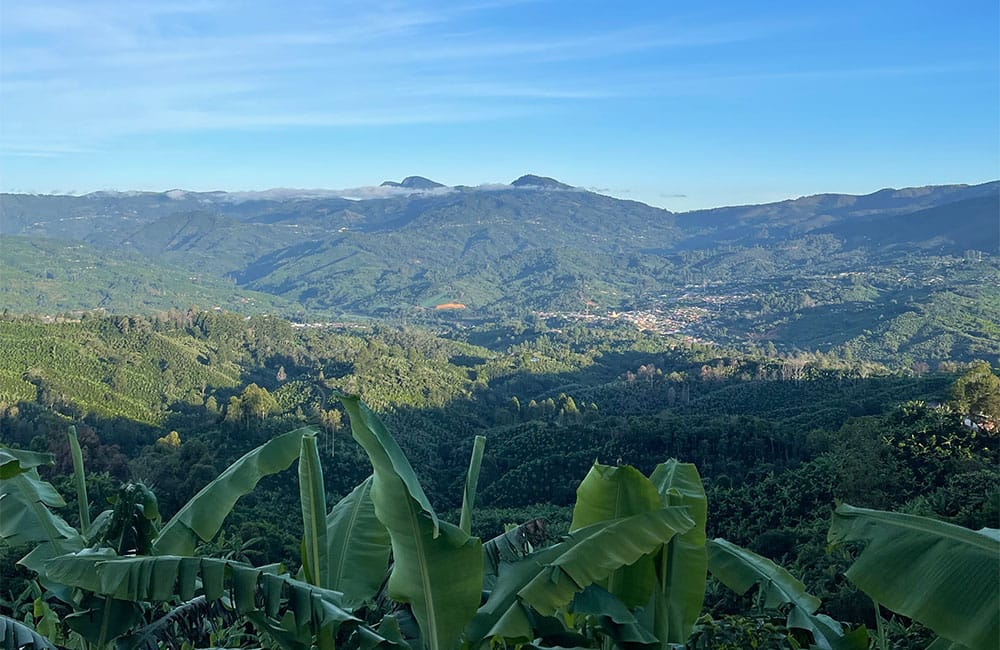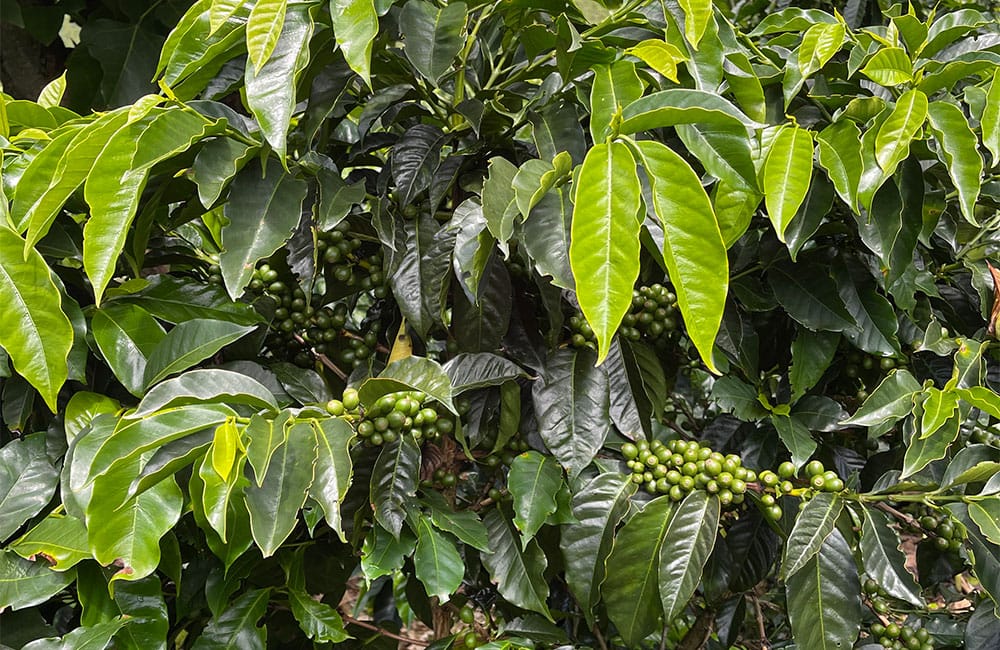 Processing of this Natural Costa Rican Coffee
Umacor is a small washing station with a simple yet effective system.
For this batch, Umacor used a natural processing method for their coffee. This process involves letting the coffee cherries dry with the pulp still attached, and then depulping them once they are dry.
The coffee is handpicked and taken to a floating system to remove lightweight fruit and foreign matter.
Next, the cherries are placed on raised drying beds to naturally dehydrate. The drying process takes about 22 days, until the appropriate moisture level is reached.
The resulting coffee is very fruity, thanks to the natural qualities of the plant and the terrain, as it undergoes minimal fermentation.
Tarrazu, a Unique Location
The Tarrazu region in Costa Rica is known for its climate and soil, which are ideal for growing specialty coffee. Tarrazu coffee is renowned for its exceptional quality, and Umacor's coffee is no exception.
Romario Umaña is an example of how innovation can help improve the quality of coffee. His work is helping to establish Costa Rican coffee as prime specialty coffee.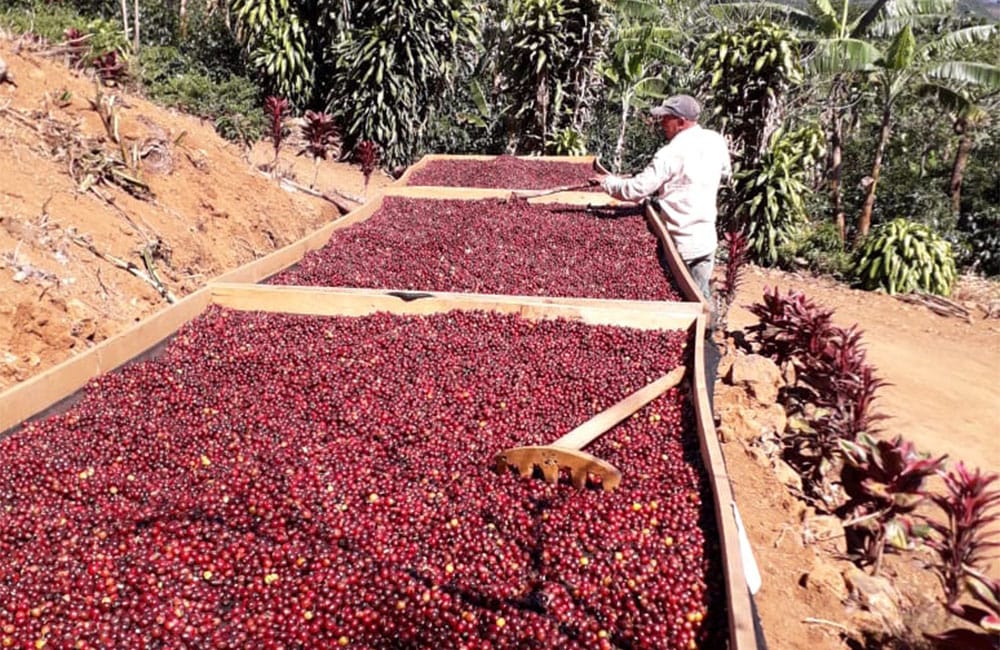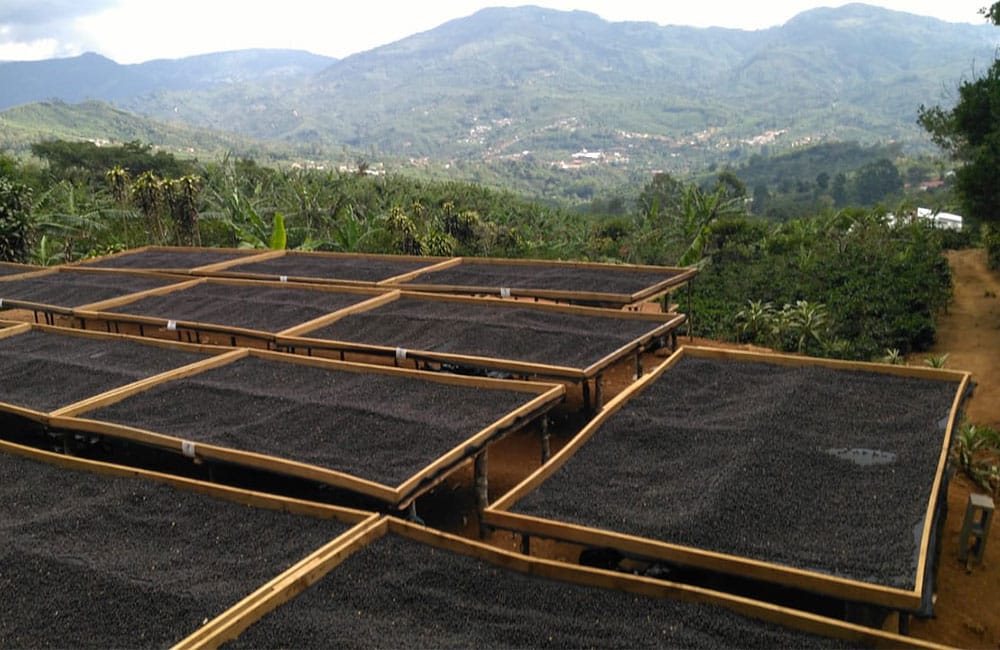 About Costa Rican Coffee
The beginnings of coffee production in Costa Rica date back to 1779. The perfect combination of soil and climate in the Central Plateau provided ideal conditions for coffee cultivation. The varietal Coffea arabica arrived in Costa Rica directly from Ethiopia.
During the 19th century, the Costa Rican government vigorously promoted coffee production, catalyzing a shift from a colonial regime and a village-based economy to a large-scale, export-oriented production.
The coffee plantation system in the country flourished in the 19th century, largely due to the government's open policy. Plots of land were offered to any farmer willing to cultivate coffee, establishing a framework for the growth of the industry.
Quickly, coffee emerged as a crucial source of income, surpassing the production of cacao, tobacco, and sugar as early as 1829.
It is important to note that, even when Costa Rica joined other Central American provinces in declaring independence from Spain in 1821, coffee exports through the Panamanian border continued uninterrupted.
In 1832, when Costa Rica was part of the Federal Republic of Central America, coffee exports began to Chile, where it was repacked and shipped to England under the label "Chilean Coffee from Valparaíso."
The turning point came in 1843, when a shipment was sent directly to the United Kingdom by William Le Lacheur, captain of the English ship The Monarch. Seeing the potential for direct cooperation, the British were intrigued and invested heavily in Costa Rica's coffee industry, becoming the main export destination until World War II.
This led to the establishment of the Anglo-Costa Rican Bank in 1863, which provided vital financing for the expansion of the industry.
Coffee growers and traders reshaped the economy of Costa Rica and played a key role in its modernization.
The revenues generated by the coffee industry funded the nation's first railroads, including the "Atlantic Railway," which connected the country to the Atlantic coast in 1890. Even the iconic National Theater of San José owes its existence to the early coffee growers.
Due to the centrality of coffee in the economy, fluctuations in world coffee prices, influenced by changes in major coffee producers such as Brazil, had significant repercussions in Costa Rica. A drop in world coffee prices could significantly impact the Costa Rican economy.
The industry faced a major setback in 1983 when a severe pest infestation struck, coinciding with a collapse in market prices due to the collapse of global quota systems.
In the late 1980s and early 1990s, coffee production increased from 158,000 tonnes in 1988 to 168,000 in 1992. However, prices fell from $316 million in 1988 to $266 million in 1992.
Costa Rica's coffee production has experienced ups and downs over the years. In the late 20th century, coffee accounted for a significant portion of the country's GDP, reaching a peak of 25%. However, in recent years, the contribution of the coffee sector to GDP has been around 1-2% due to the diversification of the economy.
Coffee production percentages have also fluctuated. In the late 1990s, Costa Rica produced around 3% of the world's coffee. While its share has declined compared to larger producers such as Brazil and Colombia, Costa Rica's focus on quality has helped maintain its reputation as a niche producer of premium beans.
Make the most out of your recurring coffee orders with the IneffablePoints programme.
How does the programme work?
It's simple, with every purchase you will automatically receive:
15 IneffablePoints for every €1 spent in Ongoing Subscription orders.
10 IneffablePoints for every €1 spent in regular coffee orders.
1 IneffablePoints for every €1 spent on accessories orders.
How and when can i redeem my points?
Once you have accumulated 2,000 IneffablePoints, you can redeem them on your next order at the checkout section:
2,000 IneffablePoints = €10 discount on your order.
Your IneffablePoints will appear automatically in the checkout section every time you make a new purchase and you will have the option to redeem them on the go.
You can discount up to 50% of the total amount of your order by using IneffablePoints.
The minimum amount of IneffablePoints redeemable is 2.000 while there is no maximum amount.
IneffablePoints expire after one year.
Your IneffablePoints are automatically associated with your customer account on our website.
You can check your IneffablePoints balance at any time by accessing your customer account here:
https://ineffablecoffee.com/my-account/
This is the most current recipe available. It is important to note that this recipe serves as a reference and in fact there are a bunch of variables which influence the final espresso in your cup: from the state of your machine and grinder, the water that you use, the rest and conservation of your coffee beans, to the atmospheric temperature and pressure, etc, and therefore, you might have to tweak the recipe to be able to find a juicy and balanced espresso with your specific set up.
Recipe:
Ratio: 1:2
Weight: 18gr
Yield: 36gr
Time: 34-37s
Variables:
Best resting time: over 2 weeks
Temperature: 94ºC
Pressure: 6 bars
Preinfussion: No
Water: BWT Bestmax 0, GH 107 (ppm as CaCO3) KH 30 (ppm as CaCO3)
Machine & equipment used for this recipe:
Espresso machine: La Marzocco KB90 2G
Grinder: Mythos 2
Basket: 22gr VST ridgeless
Extras: Barista Hustle WDT, Push Tamper (Flat, 100% level)
This is the cold brew coffee recipe that we propose for you to make 600ml of cold brew. The ratio, in case you want to brew more or less than this quantity, is 1:15, 1gr of coffee for every 15gr/ml of water.
Recipe and equipment:
Coffee 40gr. (Use whichever coffee you prefer. We suggest coffees that you like in filter. The ones that are tagged with "Cold Brew" are our favourites).
Grind size: Comandante 16 clicks.
Water 600gr/ml at room temperature.
Water composition: 2 parts of Lanjarón for 1 part of Bezoya.
Mesh or silk.
Glass container (preferably with a lid).
Let it rest for 22 hours (in the fridge).
The way to make cold brew:
Grind the coffee with a medium grind. Comandante 16 clicks.
Pour the coffee directly into the mesh.
Introduce the mesh in the glass container.
Pour the water into the container through the mesh with the coffee.
Swirl to wet all the coffee.
Cover the container.
Let it rest for 22 hours in the fridge (beware of strong odors!).
When complete remove the mesh with the coffee and it will be ready.
Bonus: you can filter it again through a V60, Kalita or similar paper filter to obtain a clean and more crystalline result.
Keep it refrigerated.
This recipe is not to dilute. Not even with ice. If you add ice, the composition of the ice water will affect the taste of your drink. Better to make your own ice with the same composition of water proposed. If you use ice, you may want to lower the ratio (1:9 to 1:12).