Strawberry jam, tamarind, jelly bean
| | |
| --- | --- |
| |  Fraijanes |
| |  1,550 – 1,800 masl. |
| |  Red Catuaí |
| |  Natural |
| |  Antonio Gonzales & Eby Aracely |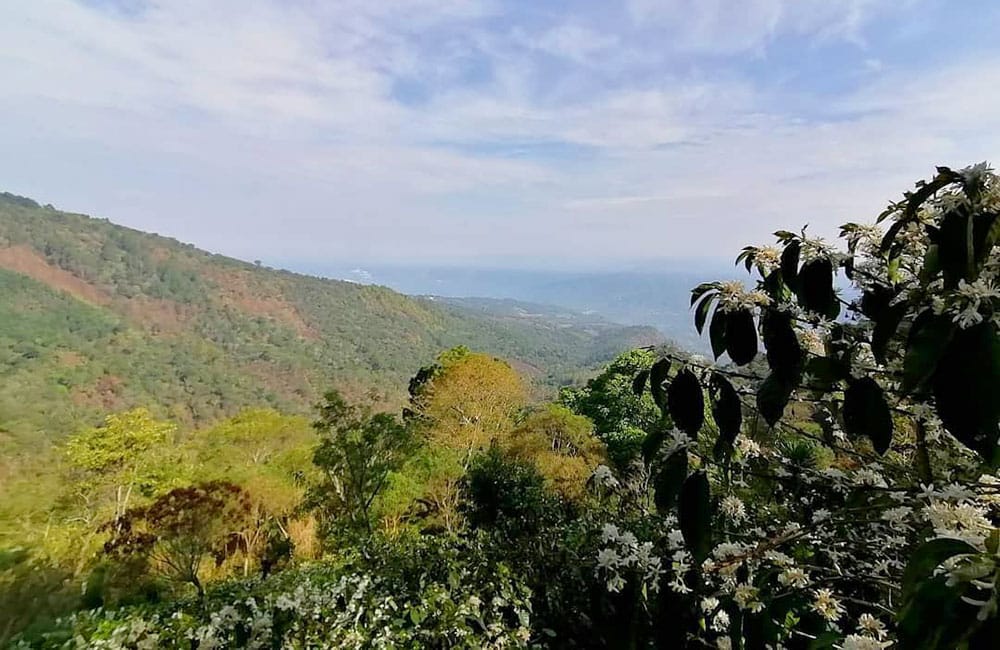 La Nueva Montaña is the name of the farm run by Antonio Gonzales and his wife, Eby Aracely Samayoa.
The farm is located in El Palmar, a small town in the Fraijanes region of Guatemala.
This region is south of Guatemala City, the capital, and at an altitude of between 1,550 and 1,800 metres.
The temperature and humidity, at this height, are ideal for coffee growing.
The drying mill, on the other hand, is located at about 1,200 metres, which provides better drying conditions.
Antonio and Eby, passion for coffee and for their children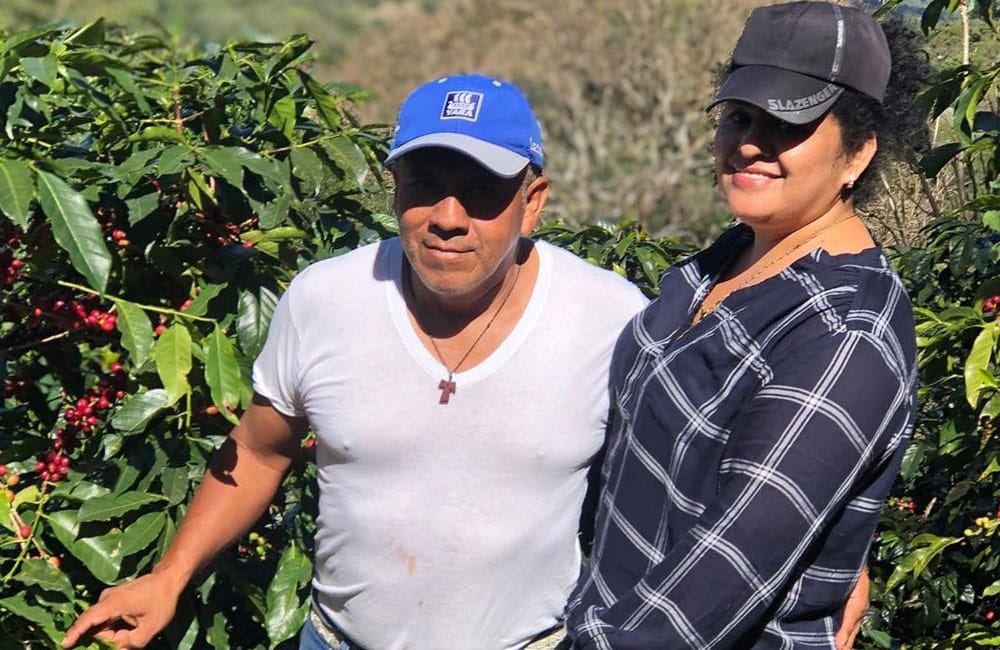 Antonio and Eby have invested a lot of time and effort into growing small batches of specialty coffee.
The variety they usually work with is Red Catuai and, unlike other local producers, they focus on honey and natural processes.
Antonio also plans to continue developing his agronomy knowledge to improve -even more- the quality of his coffees.
The great results that Antonio and Eby achieve make their efforts obvious.  
Their motivation is to cultivate and process specialty coffees recognized all over the world so that their children may go to university.
They also want to help other local producers improve their farming techniques and access tools that allow them to do so.
They both have great consideration for the environment.
For them, maintaining an ideal ecosystem to grow coffee is very important, and therefore the implications of climate change can be devastating.
A short fermentation prior to a natural process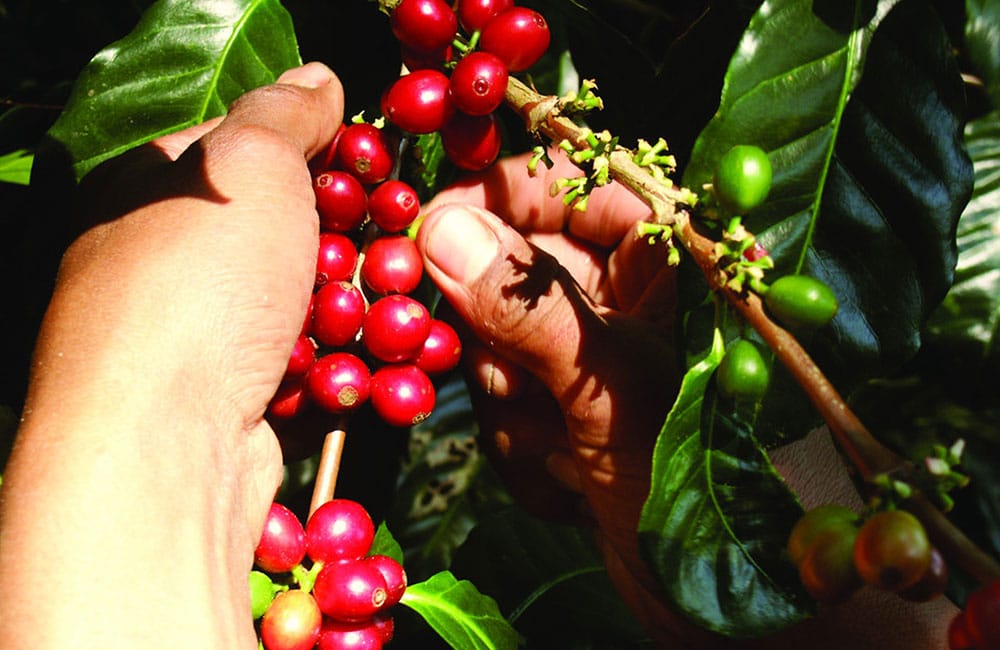 Antonio is aware that coffee fermentation begins as soon as the cherry is taken from the plant.
His many years of experience have taught him that the best coffees are achieved when this process is homogeneous and meticulously controlled.
The coffee cherries are picked by hand and only when they have reached the ideal point of ripeness.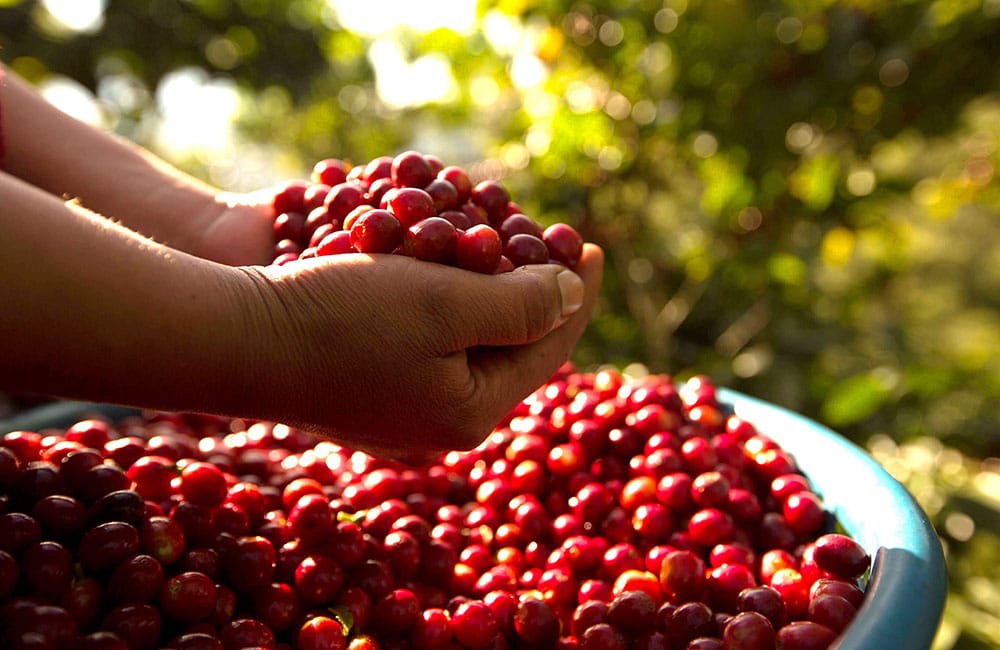 While collecting them, they are placed in hermetically sealed bags in the shade.
Once at the drying plant, the cherries are kept in these bags overnight.
This allows for a uniform and short 14 hours fermentation.
The next morning processing begins and the cherries are prepared for drying.
Natural processing of coffee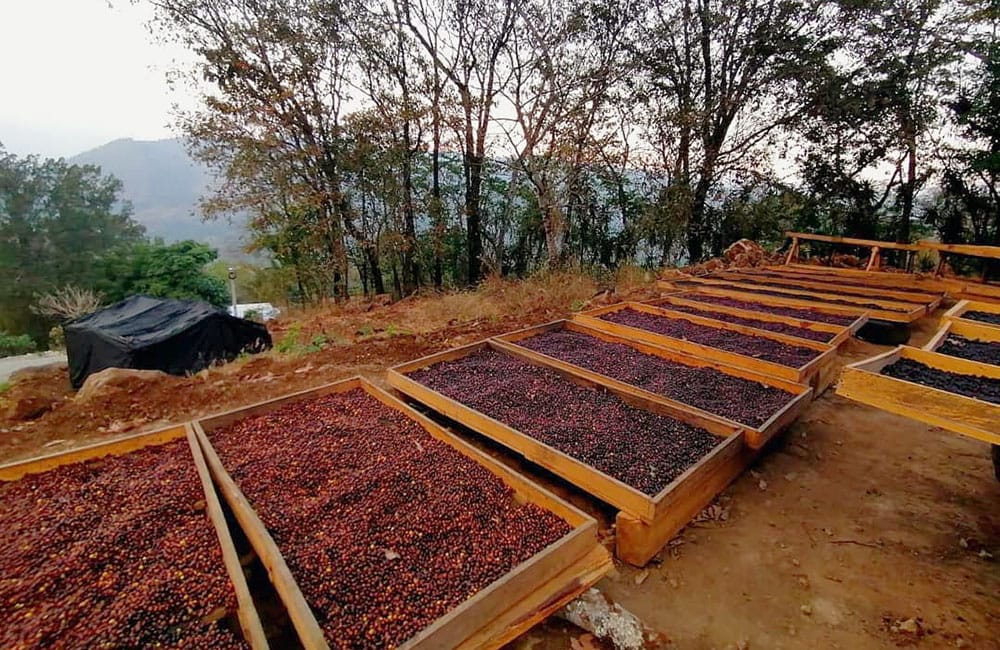 A natural process means that the coffee beans, which are what we  roast and brew, are dried with the cherry and not separated from it.
This leads to different tasting notes than other processes, such as honeys or washed coffees.
The cherries that were in the bags are thrown in water tanks to wash them and separate the floaters from the rest.
Cherries that float are not ripe enough or have defects.
This is a second filter to ensure that only the highest quality cherries reach the final batch.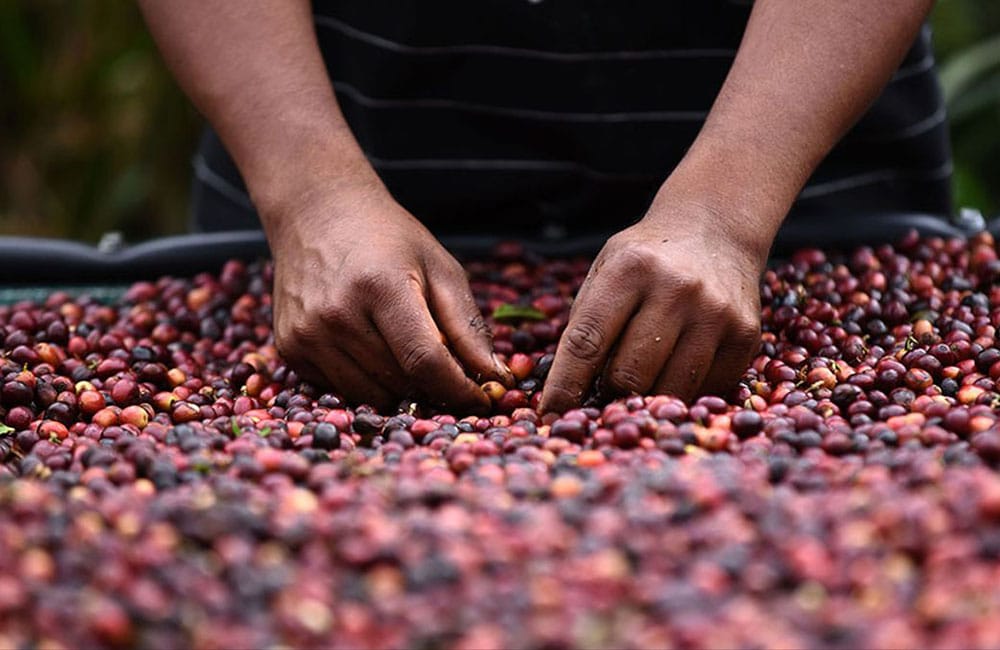 The water also reduces the number of bacteria and homogenises the temperature of the cherries before drying.
Once washed, the cherries are placed on raised beds to dry.
The drying process lasts about twenty days.
During this time, the coffee cherries are turned four times a day to ensure even drying.
When the cherries are already dry, they are transported to Fraijanes.
There the cherries are pulped, the best ones selected again, and batches created ready for exporting.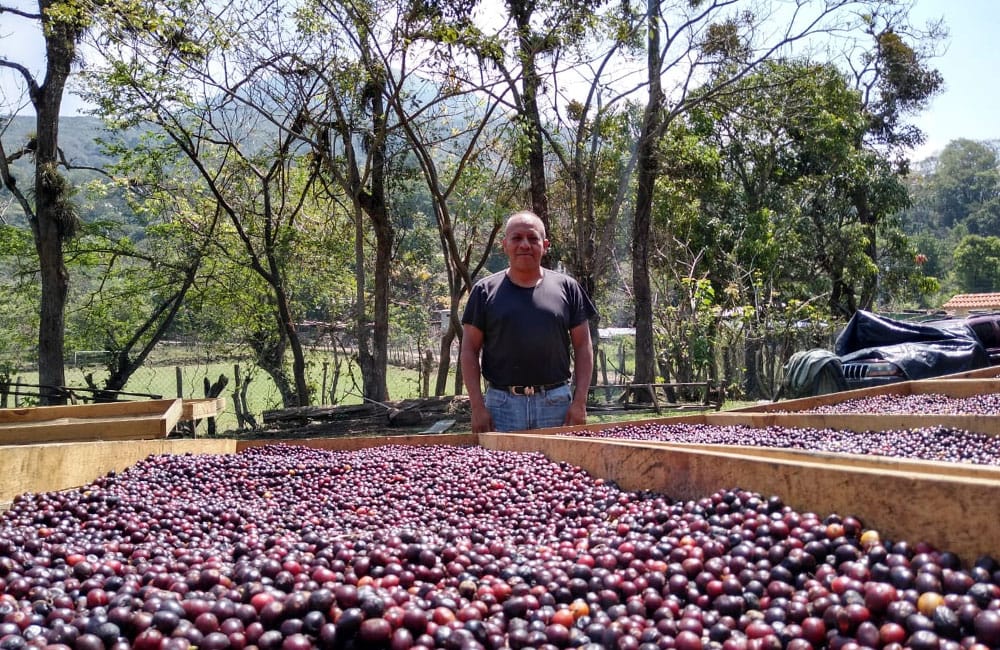 Specialty coffee as a way to improve the local economy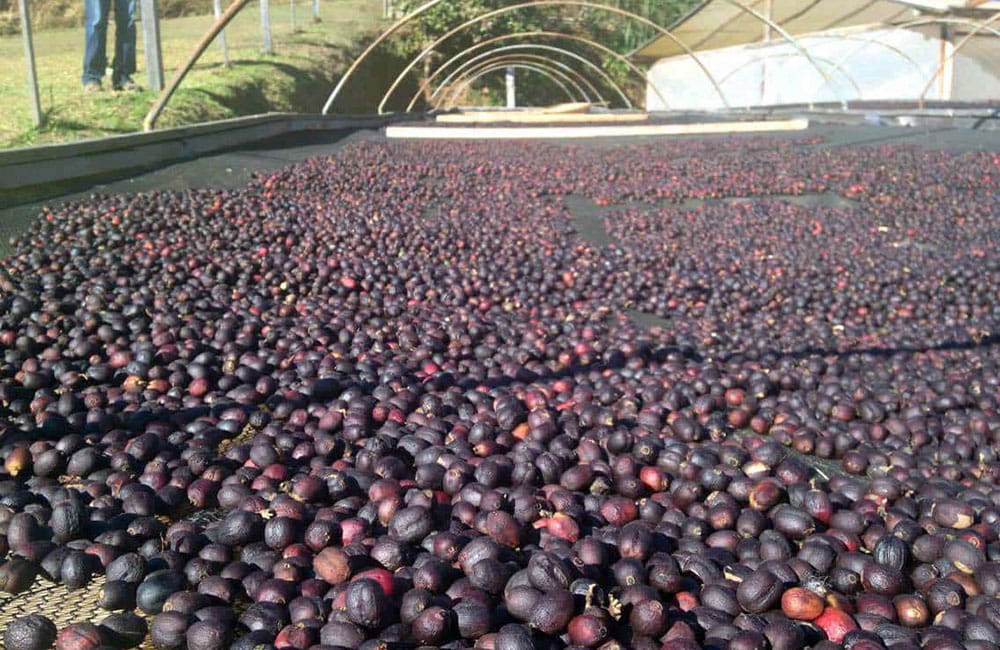 "Producing high quality natural and honey [coffees] is a very important way to increase our profits and those who work for us," says Antonio.
In Guatemala, as well as in almost all coffee producing countries, specialty coffee is allowing many coffee growers to have a more dignified life.
The specialty coffee philosophy is to treat farmers and the environment fairly.
Therefore, when you decide to consume specialty coffee, you are not only enjoying excellent coffee, but also consuming more ethically and responsibly.