Elaboración recomendada: Espresso
Cupping notes:
Blackberry, blueberries, chocolate
| | |
| --- | --- |
| |  Nyeri |
| |  1.600 – 1.850m |
| |  Ruiru 11, SL28, SL34 |
| |  Washed |
| |  Smallholders |
| |  2023 harvest |
"Slopes of Mount Kenya" refers to the area where this coffee is grown.
Mount Kenya
, a dormant volcano, is the highest mountain in Kenya and the second highest in Africa. This Kenya coffee has been grown on its slopes.
The slopes of Mount Kenya adjoin different regions of this country. This coffee comes from the Nyeri region. The growing conditions in this area are ideal for the production of specialty coffee.
The coffee is grown in rich volcanic soils at high altitudes ranging from 1,600 to 1,850 meters above sea level. Flowering occurs between March and April, while the harvest takes place between November and January.
Cooperative Model in Kenya Coffee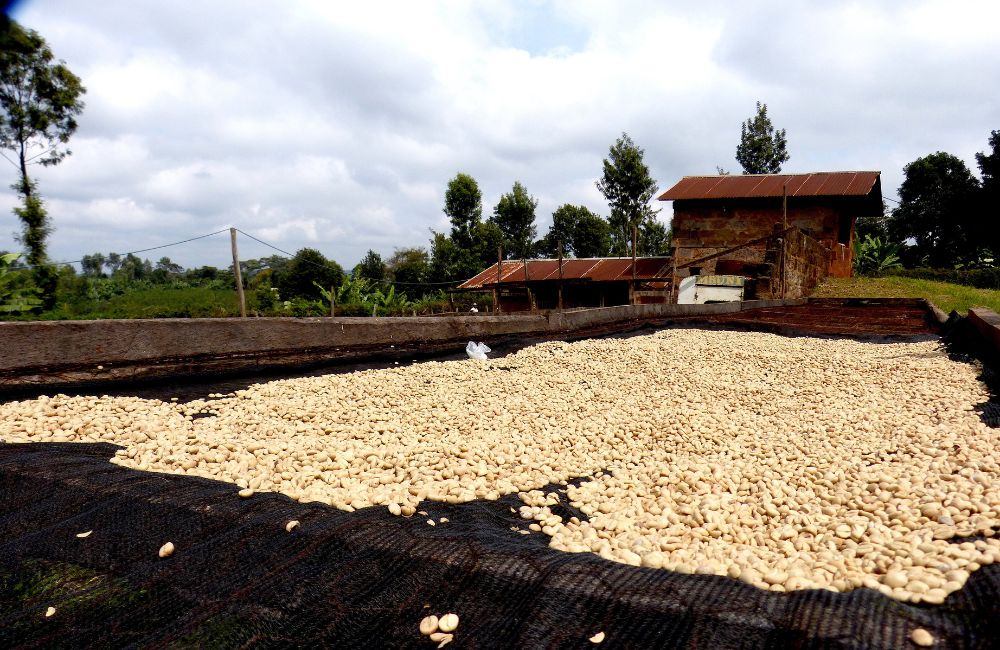 This Kenya coffee is grown in the Nyeri region of central Kenya by small farmers organized around washing stations. These producers are located on the slopes of Mount Kenya and along the Aberdare range.
The washing stations are known among them as "coffee factories" due to the important role they play in processing the coffee cherries. The functioning of these "coffee factories" is similar to that of cooperatives, even if they are not formally constituted as such.
These producers cultivate small plantations and the harvests are usually not large enough to make their own batches of Kenya coffee. Nevertheless, they are all expert coffee farmers and known for picking only the cherries at their optimal ripeness.
Many of them are neighbours and assist each other in cultivation and harvesting tasks. This, together with the fact that they grow in the same area, the same varieties and with the same methods, makes it very easy for their harvests to be grouped together to create larger batches that can be sold as specialty Kenya coffee.
After selective hand-picking, the farmers deliver their cherries to the washing stations for processing.
Processing of Slopes of Mount Kenya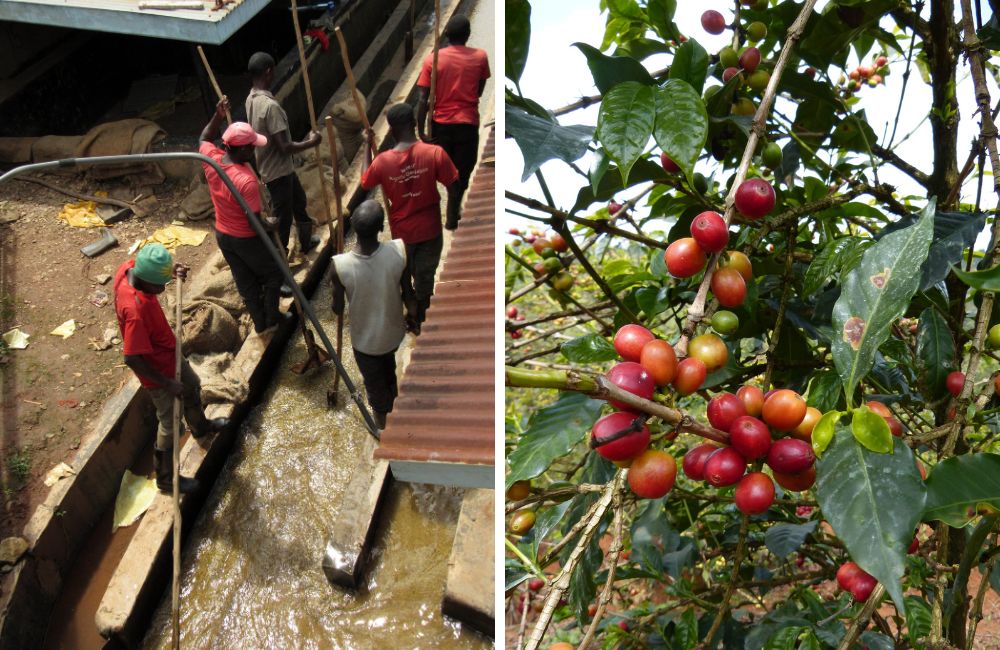 When the cherries arrive at the washing station, they are hand-sorted to remove any damaged or unripe cherries before pulping.
Once pulped, the beans of this Kenya coffee are fermented for 12 to 16 hours and then washed with fresh water from nearby streams.
Once clean, the wet beans are placed on raised beds and frequently turned to ensure even drying.
During the drying process, the skilled hands of the workers at the washing station continue the selection process, removing beans that may have defects.
The result is a clean and fruity coffee with notes of blackberry, blueberry, and chocolate.
Cooperatives as a Solution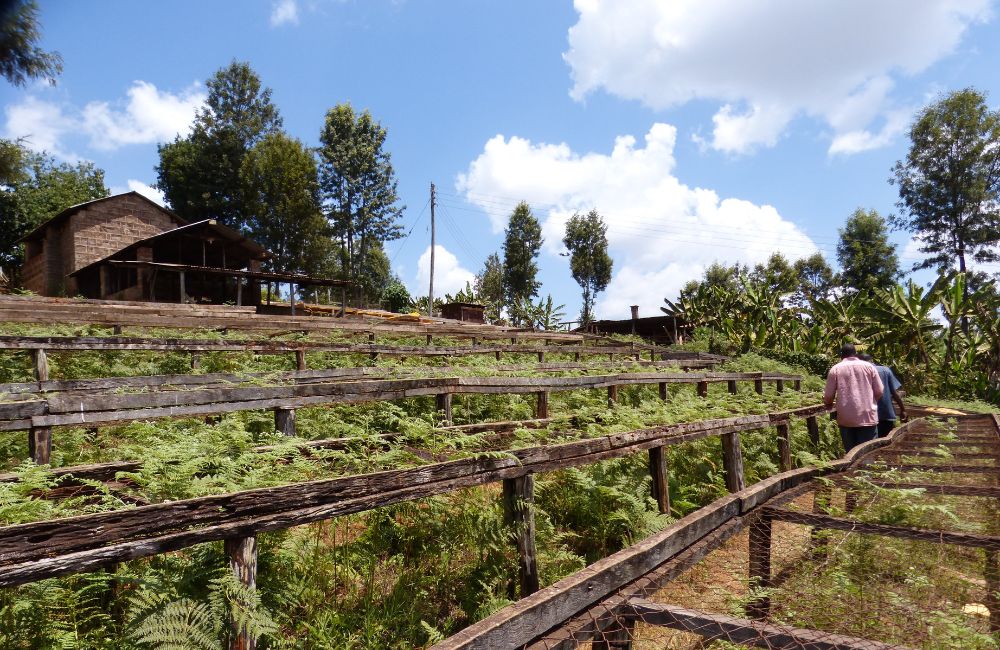 Before independent washing stations were established, small coffee farmers, for whom coffee is an important source of income, were forced to sell their crops at auctions.
The establishment of independent washing stations, functioning as cooperatives, has allowed small coffee farmers to obtain higher incomes for their crops.
The rise of specialty coffee has contributed to this process. The direct relationships and interactions between importers, roasters, and the cooperatives managing these washing stations have encouraged them to be more careful in the way they harvest and process the coffee.
This has had a positive impact on both the coffee quality -now many more specialty coffees are produced than ten years ago- and the living conditions of small coffee farmers, who receive higher incomes for their harvest, allowing them a more dignified life.