WORLDWIDE SHIPPING – Free Shipping for Spain, Balearic Islands, Canary Islands & Portugal >34€ / Europe >99€ / Delivery in 24/48h M-F
Guanacaste 120h – El Salvador – Natural Anaerobic
14,00€ – 48,00€ VAT included
| | |
| --- | --- |
| |  Brewing method: Filter & Espresso |
| |  Cupping notes: Chocolate, raspberry, raisins |
| |  Region: Santa Ana |
| |  Altitude: 1,000m |
| |  Varietal 100% arabica: Catimor |
| |  Process: Natural Anaerobic 120h |
| |  Producer/s: Rodolfo Ruffatti |
| |  Harvest: 2023 |
El Salvador Coffee from Guanacaste Farm
Guanacaste is the name of a very special tree that grows on the Pacific coast of Central America. It accumulates water in its roots during the rainy season and releases it during the dry season, benefiting all organisms and creating a microclimate around it.
The Guanacaste farm, owned by Rodolfo Ruffatti, seeks to fulfill the same purpose in a place where financial speculation and climate change have wiped out all coffee farms. Ruffatti maintains biodiversity and uses cultivation methods that benefit the ecosystem.
This is reflected in the quality of his cherries, which undergo a 120-hour fermentation process before drying on raised beds to be depulped later. It is what we call an anaerobic fermentation natural coffee.
Additional information
| | |
| --- | --- |
| Weight | N/A |
| Whole bean-Ground: | Whole bean, Ground for French Press, Ground for AeroPress, Ground for V60, Ground for Chemex, Ground for Moka Pot, Ground for Espresso |
| Pack size: | 250 gr., 1 kg. |
| Brand: | Ineffable Coffee |
| Preparation: | Filter Chemex, Filter V60, French Press, Espresso, Superautomatic, Italian Moka, AeroPress, Filter coffee machine, Cold Brew |
| Flavour profile: | Fruity, complex, medium acidity |
| Process: | Natural, Special process |
Spain & Portugal
Free shipping for orders over 34€ to mainland Spain, Balearic Islands, Canary Islands, Ceuta, Melilla, and Portugal.
For orders below 34€, shipping cost is 4€.
You will receive tracking via email for all shipments.
Delivery times are fulfilled in 99% of shipments. Please note that we are subject to the proper functioning of our external logistics partners.
National and/or regional public holidays may affect estimated delivery times.
Delivery to mainland Spain in 24/48 hours, M-F.
Delivery to Balearic Islands in 3/7 days, M-F.
Delivery to Portugal in 3/7 days, M-F.
Delivery to Canary Islands is shipped with Correos in 3/7 days, M-F, without tracking email.
Delivery to Ceuta and Melilla is shipped with Correos in 3/7 days, M-F, without tracking email.
Europe
Free shipping for orders over 99€.
Countries included: Austria, Belgium, Bulgaria, Croatia, Czech Republic, Denmark, Estonia, France, Finland, Germany, Greece, Hungary, Ireland, Italy, Latvia, Lithuania, Luxembourg, Monaco, Netherlands, Poland, Romania, Slovakia, Slovenia, Sweden and United Kingdom.
For orders below 99€, the shipping costs will be automatically calculated when you enter your shipping address in the shopping cart.
Delivery in 4/7 days, M-F.
You will receive tracking via email for all shipments.
Please note that public holidays may affect estimated delivery times.
World
Shipping costs will be automatically calculated when you enter your shipping address in the shopping cart.
You will receive tracking via email for all shipments.
Please note that customs duties and/or taxes in destination countries are not included in the shipping costs. They are external and unrelated to Ineffable Coffee, and they vary according to each country's policies.
Countries included: Andorra, Argentina, Australia, Bahrain, Belarus, Bolivia, Bosnia and Herzegovina, Brazil, Canada, Chile, China, Colombia, Costa Rica, Cyprus, Dominican Republic, Ecuador, Egypt, El Salvador, Guatemala, Honduras, Iceland, India, Indonesia, Israel, Jamaica, Japan, Jordan, Kuwait, Lebanon, Liechtenstein, North Macedonia, Malaysia, Malta, Mauritius, Mexico, Moldova, Montenegro, Morocco, New Zealand, Nicaragua, Norway, Oman, Panama, Paraguay, Peru, Qatar, Russia, San Marino, Saudi Arabia, Serbia, Singapore, South Africa, South Korea, Switzerland, Turkey, Ukraine, United Arab Emirates, United States and Uruguay.
El Salvador Coffe from Guanacaste Farm, a bastion against climate change
Finca Guanacaste, formerly known as Lombardia, in El Salvador, is a testament to a rich history, commitment to environmental sustainability, and the best coffee El Salvador has to offer.
Located in the Santa Ana region at an altitude of 950 meters, this farm not only has special geographic significance but also a unique cultural legacy.
The name "Guanacaste" pays homage to the giant Guanacaste tree, a symbol of the farm's environmental ethos.
These trees, native to the volcanic mountain range of the Pacific coast of Central America, store rainwater during the wet season and release it gradually during the dry season, nourishing microorganisms and other plant root systems.
This natural process creates a cooler microclimate under the canopy of the tree, giving rise to the nickname "Guanacos" for Salvadorans who sought refuge under its shadow.
The founder of the farm, Rodolfo Ruffatti Batlle, inherited the farm from his family during the pandemic, choosing to change the name as a reflection of his evolving values. The name change represents a deeper connection to the land, the culture, and a fervent commitment to sustainable coffee practices in El Salvador.
Finca Guanacaste is not only located in a region vulnerable to the impacts of climate change, but it has also taken on the role of leading the battle against it.
While neighboring farms face the threat of deforestation and slash-and-burn practices, Finca Guanacaste stands as a bastion of conservation.
Its goal is to restore the surrounding landscape, transforming abandoned and infertile cornfields into thriving agroforestry systems that combat forest fires and erosion.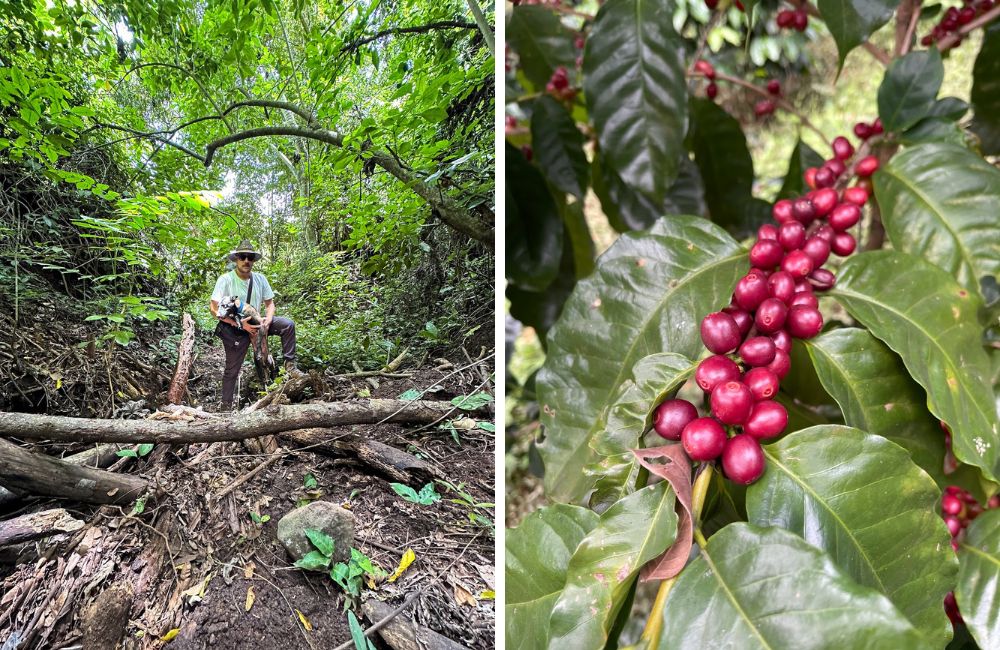 Cultivation
The elevation of the farm at 950 meters presents a unique challenge, which has driven a strategic shift to hybrid Arabica+Canephora plants that are better suited to withstand changing climate patterns.
This adaptive approach not only involves leveraging the natural vigor of hybrid plants, but it also prioritizes varieties such as Portillo FES, Tabi, and Huila.
These cultivars, meticulously selected for their resilience and exceptional flavor profiles, reflect the farm's commitment to combining agricultural innovation with the pursuit of exceptional flavor in El Salvador coffee.
The cultivation process at Finca Guanacaste is made possible by a dedicated and experienced team. The team has a permanent workforce of 12 and a seasonal harvest workforce of 30 people.
Processing
For this coffee, the cherries are picked at their optimal ripeness and fermented for 120 hours (five days) in low-oxygen conditions, or anaerobic fermentation.
During the time that the whole cherries are fermenting in these conditions, there is a transfer of aromas to the seed.
Once this time is finished, the seeds are dried without depulping, that is, the cherries are dried whole on raised beds. For this reason, this coffee is a 'natural'.
When they are dry and the seed humidity reaches 10.5%, they are cleaned and prepared for export.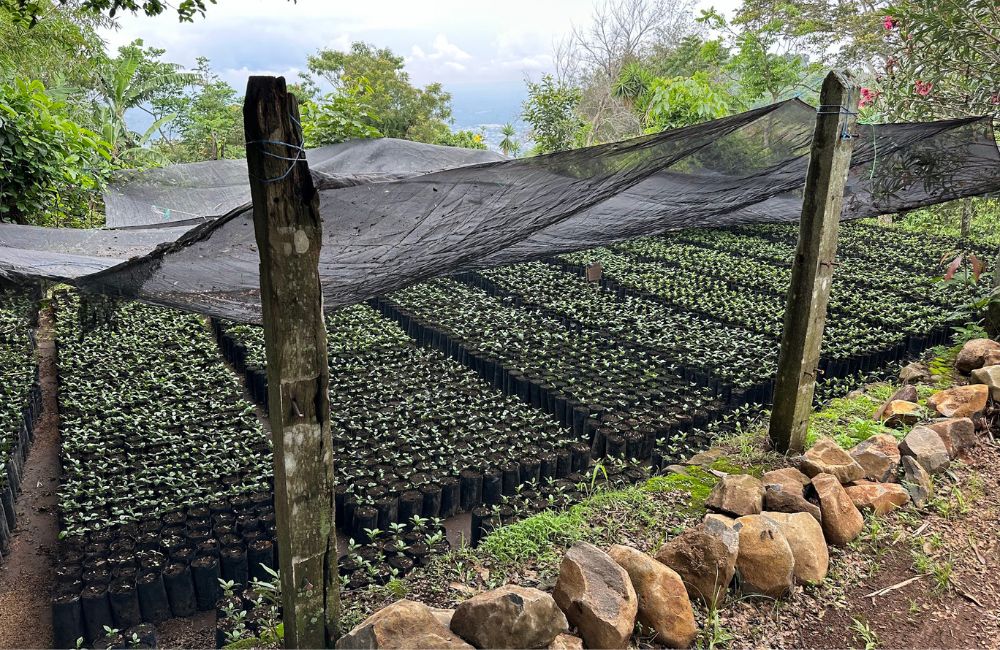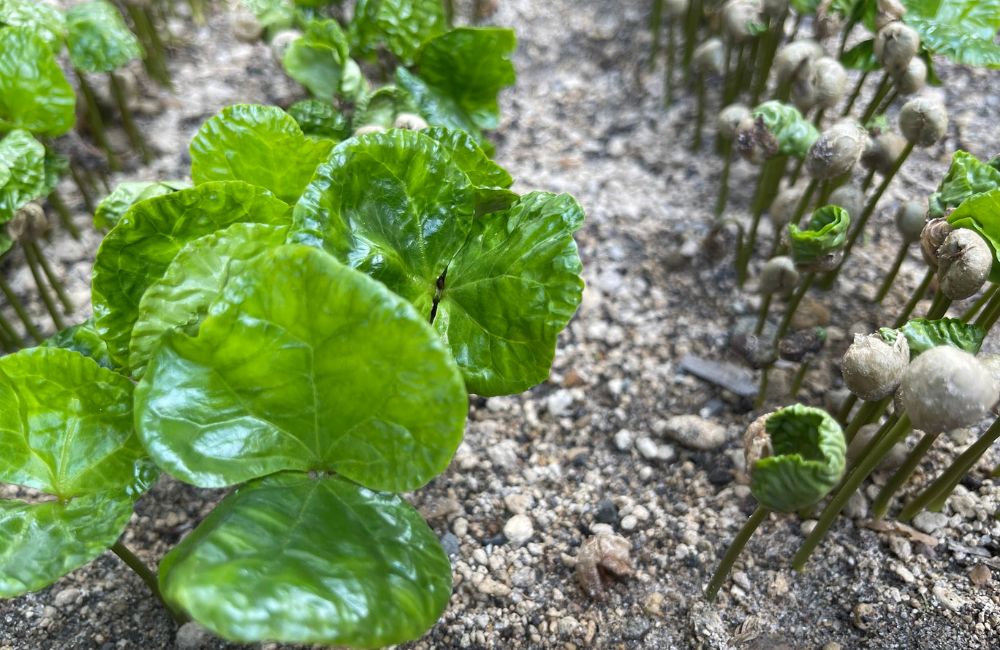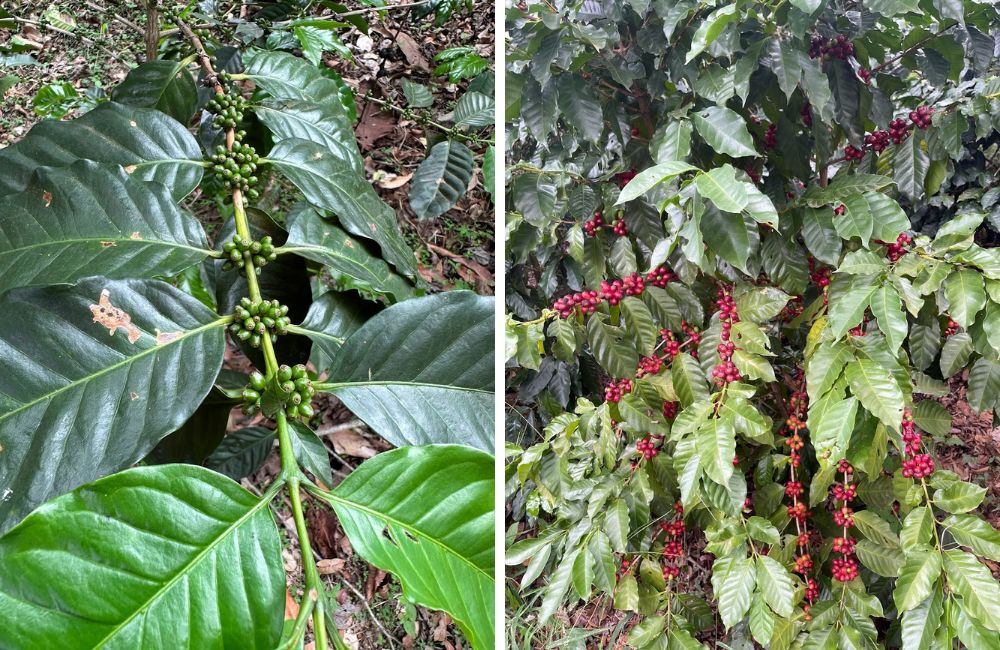 About El Salvador Coffee
Coffee was first introduced to El Salvador in the late 18th century, when local farmers brought seeds from Guatemala. However, it wasn't until the mid-19th century that coffee production began to take off.
This was due to several factors, including the development of a transportation infrastructure that facilitated the export of coffee, the introduction of new coffee varieties that were more resistant to pests and diseases, and government support for the coffee industry.
By the early 20th century, coffee had become El Salvador's most important export crop. It accounted for more than 90% of the country's exports and up to 50% of GDP.
The coffee industry also had a significant impact on the social and political development of El Salvador. Coffee producers became a powerful elite that controlled the government and the economy. This led to great inequality and poverty among coffee workers.
The coffee industry continued to grow and prosper throughout the 20th century. However, it was also vulnerable to several factors, including pests and diseases, fluctuations in the global coffee market, and political instability.
In the 1970s, the coffee industry was severely hit by an epidemic of coffee rust. This led to a decrease in production and a drop in export earnings.
The coffee industry also played a role in the civil war that ravaged El Salvador from 1979 to 1992. Coffee producers were aligned with the government, while coffee workers supported the rebel forces. The war caused widespread damage to the coffee industry and it took several years for production to recover.
Today, coffee remains El Salvador's most important export crop, although much smaller. It accounts for approximately 25% of the country's exports and contributes 3.5% to GDP.
However, the coffee industry faces several challenges, including climate change, the coffee rust epidemic, and competition from other coffee-producing countries. Despite these challenges, El Salvador continues to produce some of the finest coffee in the world.
Salvadoran coffee is grown at a variety of altitudes, from the coastal lowlands to the high mountains. The different altitudes produce different flavor profiles, so there is a wide variety of Salvadoran coffee to choose from.
This is the most current recipe available. It is important to note that this recipe serves as a reference and in fact there are a bunch of variables which influence the final espresso in your cup: from the state of your machine and grinder, the water that you use, the rest and conservation of your coffee beans, to the atmospheric temperature and pressure, etc, and therefore, you might have to tweak the recipe to be able to find a juicy and balanced espresso with your specific set up.
Recipe:
Ratio: 1:2.2
Weight: 18gr
Yield: 39gr
Time: 35-38s
Notas:
Variables:
Best resting time: over 2 weeks
Temperature: 94
Pressure: 6 bars
Preinfussion: No
Water:
Machine & equipment used for this recipe:
Espresso machine: La Marzocco KB90 2G
Grinder: Mythos 2
Basket: 22gr VST ridgeless
Extras: Barista Hustle WDT, Push Tamper (Flat, 100% level)
This is the cold brew coffee recipe that we propose for you to make 600ml of cold brew. The ratio, in case you want to brew more or less than this quantity, is 1:15, 1gr of coffee for every 15gr/ml of water.
Recipe and equipment:
Coffee 40gr. (Use whichever coffee you prefer. We suggest coffees that you like in filter. The ones that are tagged with "Cold Brew" are our favourites).
Grind size: Comandante 16 clicks.
Water 600gr/ml at room temperature.
Water composition: 2 parts of Lanjarón for 1 part of Bezoya.
Mesh or silk.
Glass container (preferably with a lid).
Let it rest for 22 hours (in the fridge).
The way to make cold brew:
Grind the coffee with a medium grind. Comandante 16 clicks.
Pour the coffee directly into the mesh.
Introduce the mesh in the glass container.
Pour the water into the container through the mesh with the coffee.
Swirl to wet all the coffee.
Cover the container.
Let it rest for 22 hours in the fridge (beware of strong odors!).
When complete remove the mesh with the coffee and it will be ready.
Bonus: you can filter it again through a V60, Kalita or similar paper filter to obtain a clean and more crystalline result.
Keep it refrigerated.
This recipe is not to dilute. Not even with ice. If you add ice, the composition of the ice water will affect the taste of your drink. Better to make your own ice with the same composition of water proposed. If you use ice, you may want to lower the ratio (1:9 to 1:12).