WORLDWIDE SHIPPING – Free shipping in peninsular Spain from 34,00€ / Delivery in 24/48 hours M-F
Bialetti Moka Express Italian Coffee Pot
28,00€ – 39,00€ VAT included
Capacity for 2, 3 or 6 cups of coffee.
Version: Moka Express.
Made of recyclable cast aluminum.
Patented safety valve for easy inspection and cleaning.
Thermoplastic handle, anti-burn and anti-slip.
Bialetti Moka Express Italian Coffee Pot
The Bialetti Moka Express Italian Coffee Pot is a timeless classic due to its design, results and ease of use. Alfonso Bialetti, an Italian engineer, designed this coffee pot that has become an icon of coffee and the made in Italy. He manufactured it in 1933, after realizing that a coffee pot was needed that offered similar results to that of professional coffee machines, but at home. He managed to change the way in which not just Italy, but half the world, made coffee. Alfonso Bialetti baptized his invention -which has made it to museums- with the name of Moka Espresso Coffee Pot, in honor of the port of Mokha, in Yemen, where the modern history of coffee begins.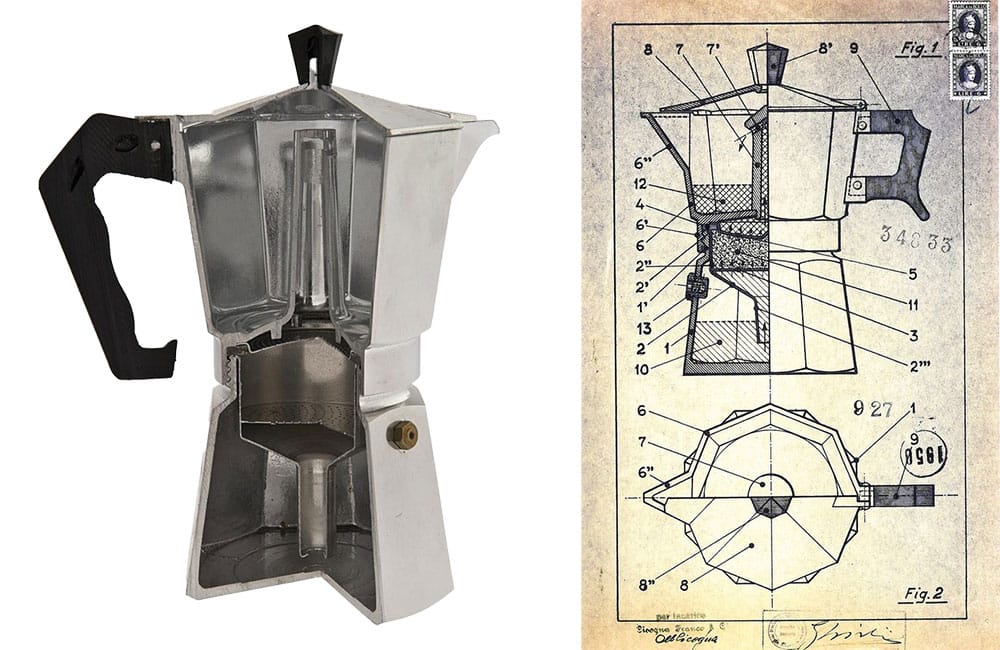 How an Italian Moka Express Coffee Pot Works
The Bialetti Moka Express Italian Coffee Pot has a simple but ingenious design. It's made of three main parts: the boiler or lower part, the coffee filter and the upper part that collects the infused coffee. It also has other components, such as the valve, an adjustment rubber and a plastic handle, to improve the use of the three main ones. The concept of ​​how a moka express coffee pot works is simple. The water is heated in the boiler. When boiling, it generates pressure that causes the water to pass through the filter with the coffee and infuse it. The upper compartment collects the infused coffee. Once all the water has passed through the filter and is in the upper compartment, the pressure makes the coffee maker sing, making the characteristic music with which we all have gotten up so many mornings.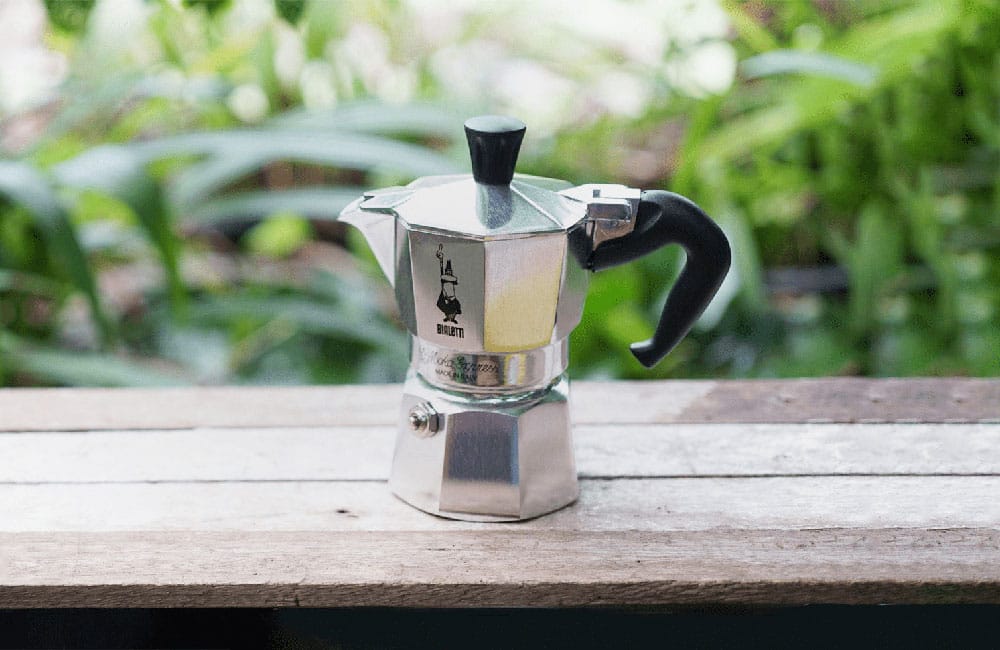 Characteristics of Bialettis' Italian Moka Express Coffee Pot
Although today we can find other brands that manufacture coffee pots similar to Bialetti's, this brand's design is the original and they continue to manufacture it until today. The Bialetti Moka Express Italian Coffee Pot is made of recyclable cast aluminium. The boiler or lower compartment has the characteristic octagonal boiler design and a removable valve for easy inspection and cleaning. The handle is made of aluminum and plastic, to be able to handle once it is in the fire. This is the original design by Alfonso Bialetti inspired by Art Deco. It has won awards and can be found in museums such as the MoMA in New York. Now with some improvements. With these credentials it should not be missing at your home!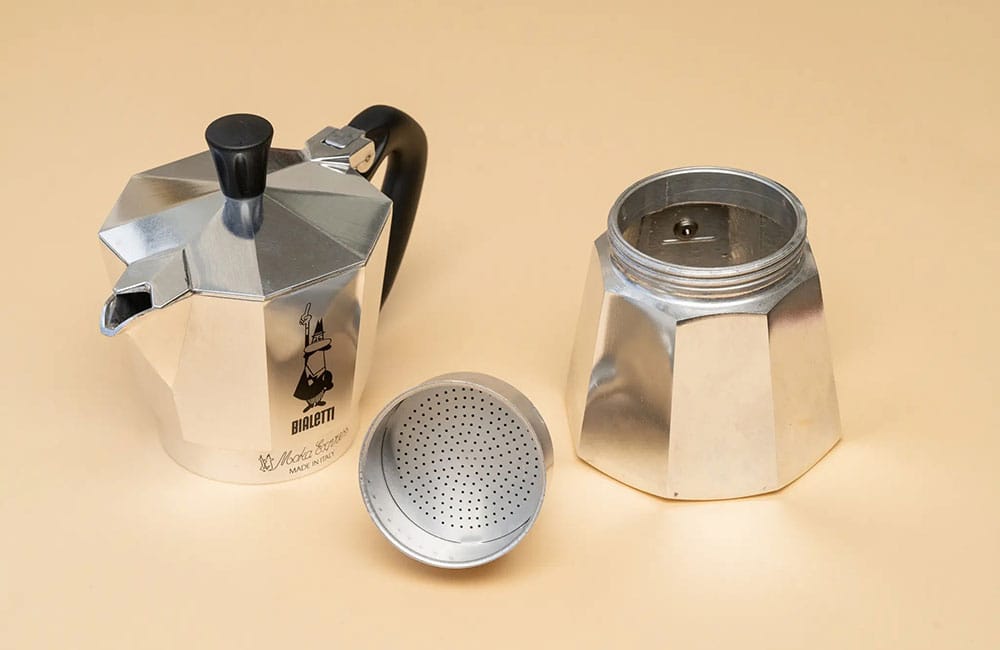 How to Brew Coffee in Bialetti's Italian Moka Express Coffee Pot
Preparing coffee in a Bialetti moka pot is very simple, but no less delicious for that. First of all, we recommend heating the water in a kettle. Once it is hot, we fill the boiler up to the valve (and no more!). You could use cold water directly, but we recommend heating it up beforehand. We fill the filter with ground coffee (it must have the right grinding for this coffee method) up to the top, without letting it overflow or pile up and without pressing it, and we put it in the boiler. Then we screw the top compartment with the boiler (and the filter inside) and put everything on the fire. Soon we will see how the coffee comes out of the upper compartment. Once we see that it begins to splash on the lid, we remove the coffee maker from the heat. And then we will hear our coffee pot sing. That particular singing that has made happy so many mornings.
Additional information
| | |
| --- | --- |
| Weight | N/A |
| Brand: | Bialetti |
| For cups: | 2 cups / 100ml., 3 cups / 150ml., 6 cups / 300ml. |
Shipping
· Free shipping with 34,00€ plus order. Only applicable in peninsular Spain.
· Shipping costs per order are 4,00€ (VAT included), for peninsular Spain.
· For any other areas or countries please proceed to cart, type in your address and it will automatically show your shipping cost.
IneffablePoints
Make the most out of your recurring coffee orders with the IneffablePoints programme.
How does the programme work?
It's simple, with every purchase you will automatically receive:
15 IneffablePoints for every €1 spent in Ongoing Subscription orders.
10 IneffablePoints for every €1 spent in regular coffee orders.
1 IneffablePoints for every €1 spent on accessories orders.
How and when can i redeem my points?
Once you have accumulated 2,000 IneffablePoints, you can redeem them on your next order at the checkout section:
2,000 IneffablePoints = €10 discount on your order.
Your IneffablePoints will appear automatically in the checkout section every time you make a new purchase and you will have the option to redeem them on the go.
You can discount up to 50% of the total amount of your order by using IneffablePoints.
The minimum amount of IneffablePoints redeemable is 2.000 while there is no maximum amount.
IneffablePoints expire after one year.
Your IneffablePoints are automatically associated with your customer account on our website. You can check your IneffablePoints balance at any time by accessing your customer account here: https://ineffablecoffee.com/my-account/