Freeze dried strawberry, cotton candy, violet
| | |
| --- | --- |
| |  Cauca |
| |  1,870m. |
| |  Castillo |
| | Double anaerobic fermentation, thermal shock, washed |
| |  Yenny Esperanza |
| |  Harvest 2022 |
Yenny Esperanza Bermudez is the person behind this innovative coffee. Yenny is a Colombian lawyer who, along with her four brothers, changed her lifestyle and started a family coffee business.
In 2009 they bought Finca El Paraíso Villa Esperanza, a 27-hectare farm located in the Colombian municipality of El Tambo, in the department of El Cauco, in Colombia. It is located southwest of the country's capital and about 28 kilometers from Popayán, the region's capital.
This mountainous municipality is rich in natural resources and from its hill springs the water supply for thousands of people. The farm is at an altitude of 1700 meters above sea level and has a mild climate all year round, with an average of 18 degrees.
The geological characteristics of this region are very good for the cultivation of different foods such as cassava, plantain, brown sugar cane and fique. If we add to this the altitude at which the farm is located and the mild climate it makes it an ideal location for growing specialty coffee.
Finca El Paraíso Villa Esperanza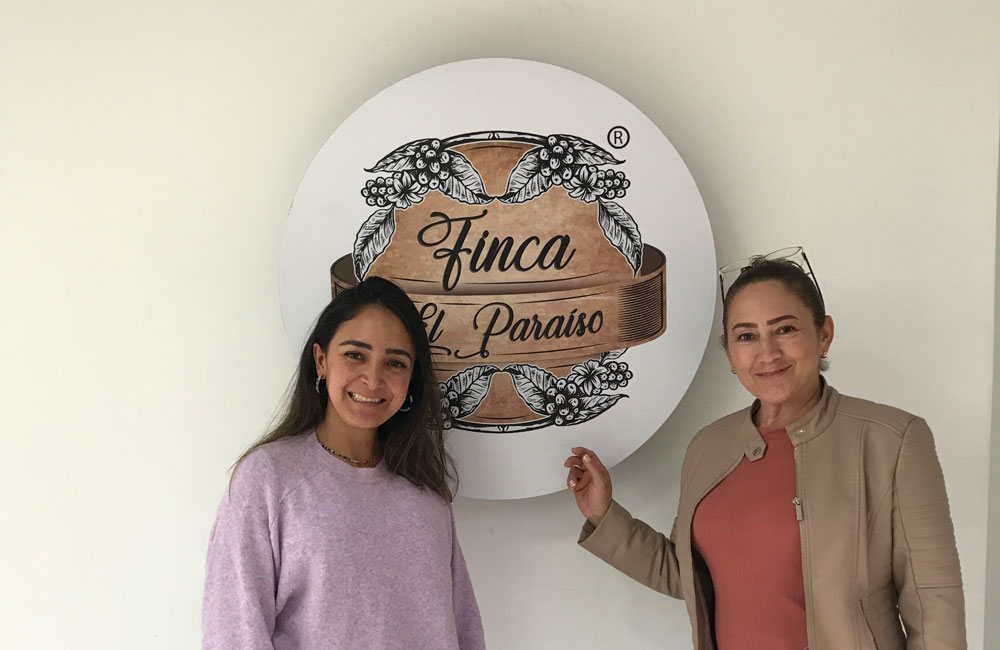 El Paraíso Villa Esperanza farm is the culmination of a dream and the continuity of another. Yenny Bermudez decided, more than ten years ago, to leave her law practice and join her brothers to create a family coffee business.
They looked for a property near El Paraíso farm, to whom owners they are related and who they trust to process the coffees they grow.
Their intention was to start a business that would give them a chance to live with dignity and offer opportunities to the new generations. Marry this with their love for coffee and the results speak for themselves.
They focus mainly on planting and growing coffee, but coffee trees grow and cherries ripen in the shade of citrus and fruit trees.
Yenny Bermúdez Thermal Shock Coffee Process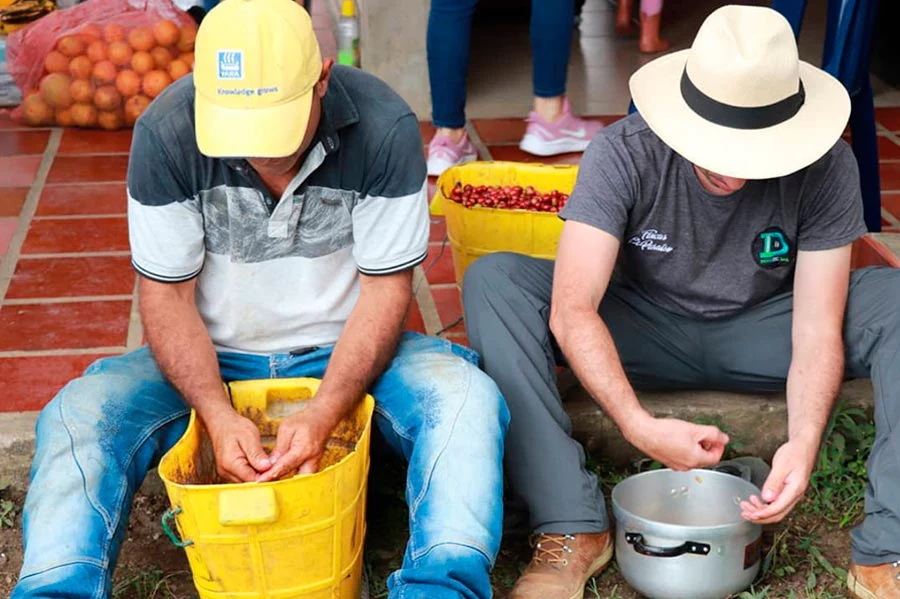 This coffee has gone through a very innovative and special process. The coffee process is carried out by Diego Bermudez, from the neighboring farm El Paraíso and Yenny's family member. Yenny and her brothers fully trust Diego and his team's abilities to get the best out of the coffees they harvest.
Diego Bermúdez's scientific approach has led him to experiment with different processes. This, together with extensive knowledge, has allowed him to develop different and specific process profiles for each coffee.
This lot's process has been called Thermal Shock since the coffee cherries undergo a thermal shock with hot water and cold water after a double fermentation. This thermal shock accentuates sweet and fruity flavors. But the process is more complex and it is worth learning about it.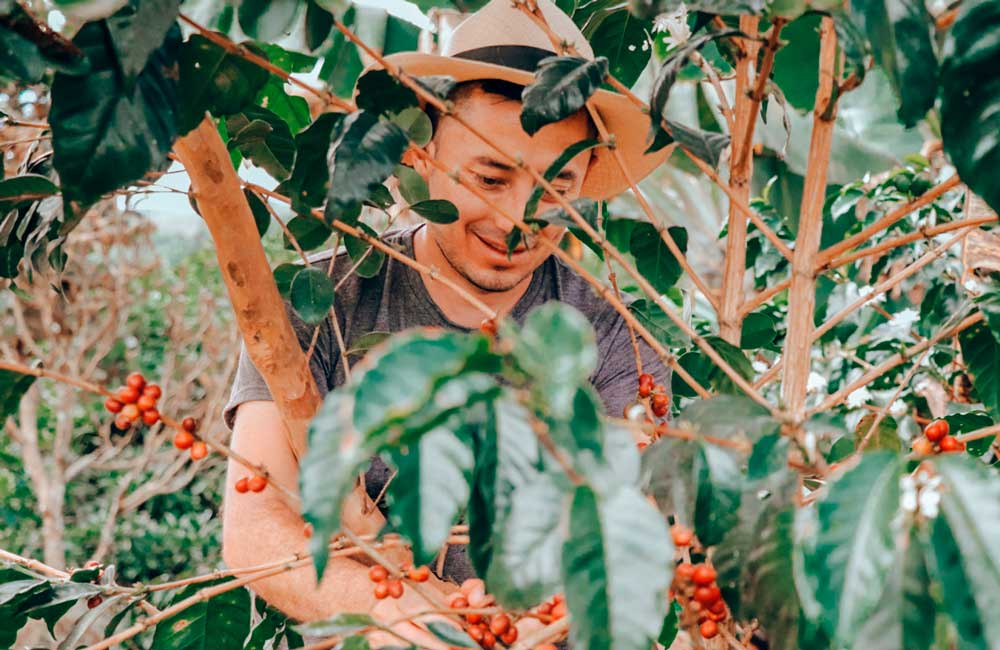 First of all, only cherries at their optimal point of ripeness are harvested and these make up at least 95% of the total. Once the cherries are collected, they are washed with ozonated water and ultraviolet light.
When the cherries are clean and the ones not ripe enough have been discarded, the first anaerobic fermentation takes place. To do this, the cherries are left for 48 hours in stainless steel tanks at 18 degrees.
The third step is to pulp the cherries, wash the beans and leave them to ferment for another 48 hours, although this time at a slightly higher temperature, 21 degrees.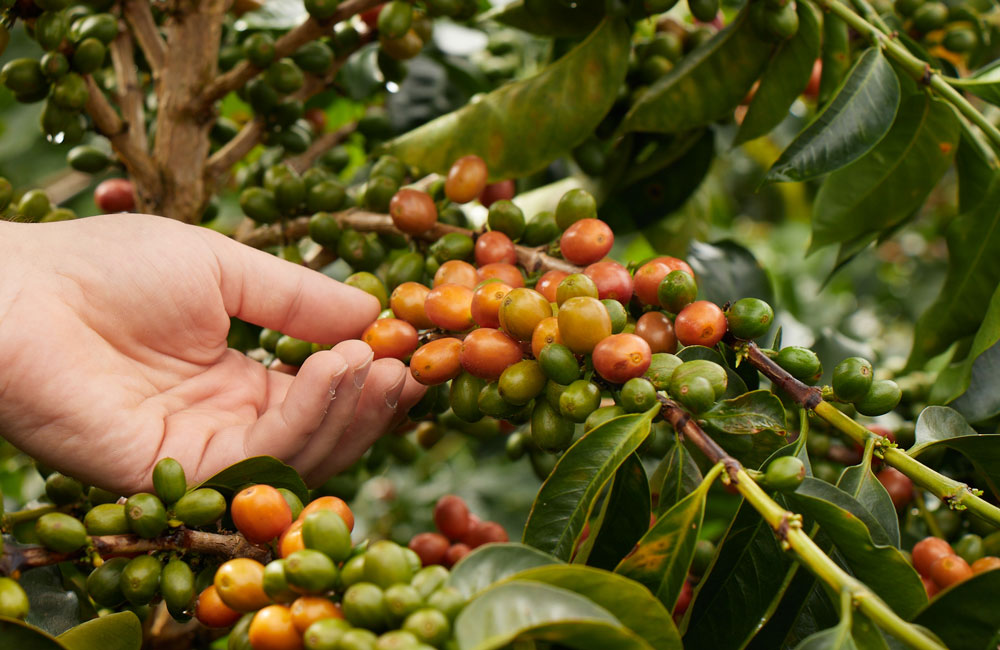 The fourth step is truly innovative because it puts the cherries through a thermal shock. First with water at 40 degrees, which eliminates the microorganisms present, and then with cold water at 12 degrees, which stops fermentation. This thermal shock accentuates the fruity and sweet flavors that are achieved by fermentation.
Finally -Diego Bermudez leaves nothing to chance- the coffee beans are dried by a circulating hot air machine at 34 degrees. This process lasts between 24 and 28 hours.